Despite only 1 point separating them over the course of the league, Dublin are firm favourites with the bookies for Sunday's League Final. Taking into account that Tyrone have already beaten Dublin this year is the short price on a Dublin win justified? Let's take a look at some of the numbers.
Tyrone:
Tyrone's Shooting % in 2013 is at 47% – not bad but certainly not brilliant. Come Championship time this probably won't be good enough to lift Sam. What has helped Tyrone is the fact that their opponents have only shot at 42% (Dublin scored 48%). This is a pretty low % and again not something we would expect from Top Teams but some credit must be given to the Tyrone defense for this.
To highlight how good Tyrone have been at keeping the opponents to shooting from distance, the shooting schematic below shows the sheer quantity of (wides and short) shots that have come from outside the main scoring area.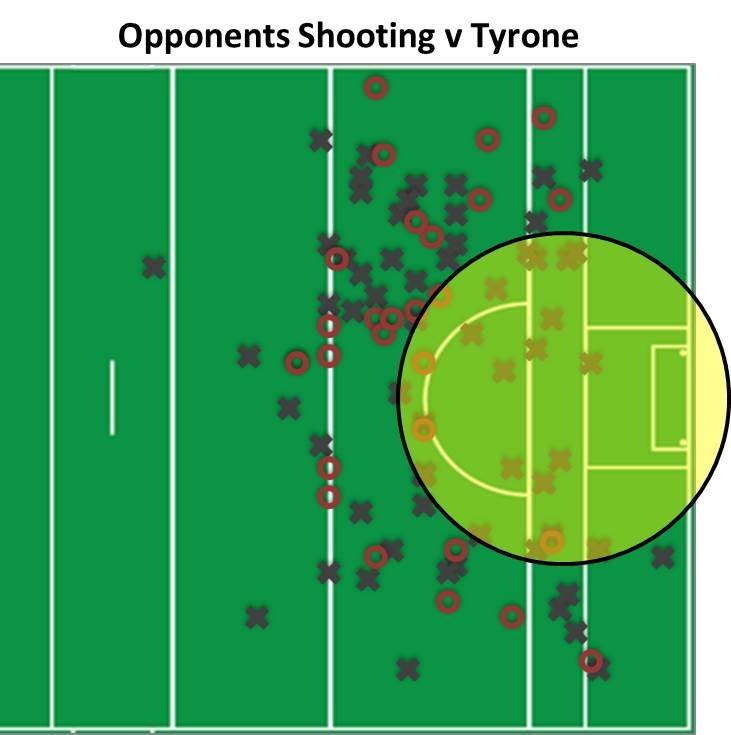 Tyrone's Attack Efficiency (shots/attacks) is at 81% which is quite good considering the strength of the opposition. 78% is the average for good teams but a few attacks either way can make a big difference here. By contrast Tyrone's Opponents have had an Attack Efficiency of 83%. This is well above average and shows that teams are not struggling to get inside Tyrone's 45, but then the pressure comes on and the shooting is a bit erratic. Perhaps of most note is the fact that Dublin had a 94% Attack Efficiency against Tyrone – ominous signs?
How Do Dublin Stack Up
Do Dublin justify their short odds? Looking at their 2013 league campaign their shooting % is only at 45% – best forwards in the country? The have had good some good days and bad ones but their Shooting % has never crept above 50%. Amazingly Dublin's opponents have preformed better at Shooting %, scoring 48% of their shots. The big difference has been the sheer quantity of shots Dublin have had, but these figures seem to back up the attitude of 'whatever you score, we will score more'. This attitude seems especially evident in the number of goals scored.
Perhaps the most interesting finding is that Dublin's Opponents have only managed a 76% Attack Efficiency. This is a striking % and extremely close to what Donegal managed last year. When opponents get a shot off they are scoring with a greater % of shots than Dublin but Dublin are vastly better at stopping the number of shots in the first place. So while all the talk has been of the forward power – perhaps it is Dublin's defenders that deserve more credit for allowing their forwards get away with such an average return.
The Verdict
A big reason Tyrone won against Dublin is despite the % being similar, they created 10 more attacks and 8 more shots than Dublin. This is a big swing in a 1 point game. Looking at the numbers above it seems that Tyrone will have to restrict Dublin's possession rather than go toe-to-toe with them in any Shoot Off if they have any chance of winning.
Dublin's Style
There is a lot of talk about the changing style of Dublin football and the new attacking style Dublin have brought. To see if this is true I went back over the 2012 figures for a comparison*.
Shooting % (Dublin/Opponents)
2012 Championship: 49%/50%
2013 League: 45%/48%
Attack Efficiency % (Dublin/Opponents)
2012 Championship: 82%/80%
2013 League: 82%/76%
Notes:
The league games analysed this year include every opponent except Cork (to make the samples identical).
Comparing League and Championship has some limitations, not least the standard of opponents but as an illustration I think it's interesting. 
Wides are marked with an X and Short with a 0