Dublin won by the smallest of margins on Saturday night but Monaghan have a lot to be pleased with. Many teams don't get this close and yes it is the league but playing Dublin in Croke Park is never an easy game no matter what the competition is.
Dublin's Kickouts
Having been involved with inter-county teams there is always the discussion to stick or twist against Dublin's kickouts. Between the accuracy and speed, pushing up feels like the riskier option, easier to sit back let them have it and meet them at half-way. Some teams try the half-way measure of splitting defenders (see Mayo last week) but not Monaghan this week. They pushed up and went man-to-man.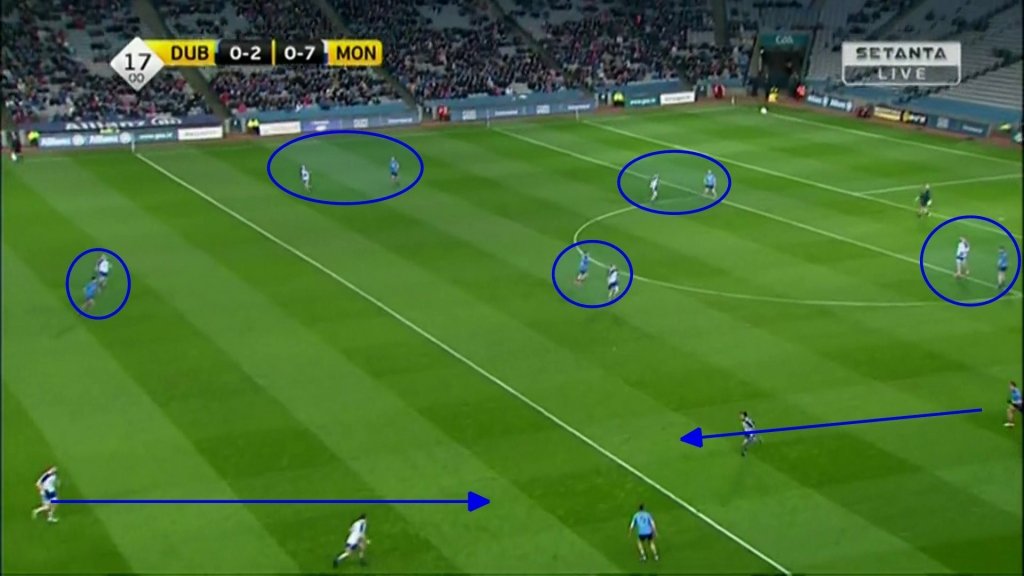 This was typical of Monaghan's shape on Cluxton's kickouts. If Dublin get clean ball here there are 5 Monaghan player's out of the game. But that's the risk and you have to balance that with just gifting Dublin the ball.
Rather than being content to make sure their own man didn't get the ball you can see 2 Monaghan men racing to be involved should there be a breaking ball.
Earlier we can see again Monaghan have committed 6 men inside Dublin's 45 but their willingness to get to the breaking ball was surprisingly better than Dublin's.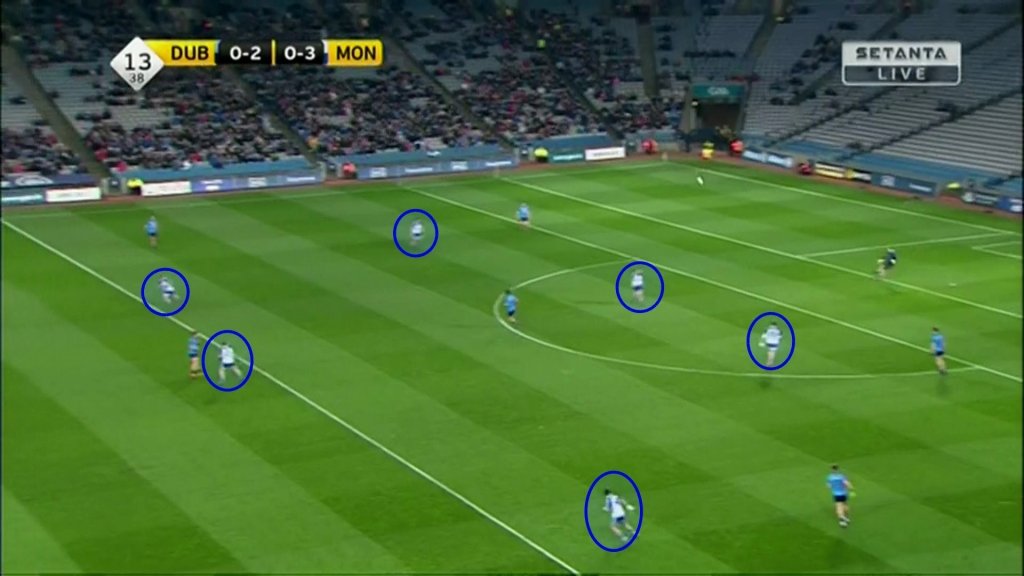 Once the ball is going long Monaghan get 5 players to the breaking ball, wile some of the Dublin player's stand and watch.
Monaghan had good success with this strategy. Dublin 'only' won 67% of their own kickouts. Many other teams have tried and failed to stop the relentless possession Dublin get from kickouts and winning 33% of their kickouts is a decent day. When we look at the return Monaghan got from the 8 kickouts we can see how valuable it was.
Point (great goal chance)
Point
Foul Against
Hand Pass Goal
Point
Post (great goal chance)
Point
Point
5 Points & 2 great goal chances is an excellent return, especially in a 1 point game.
The Risk
Pressing Dublin's Kickouts does come at a cost. In general Monaghan handled this very well and Dublin didn't have many fast breaks but there was once where Phily McMahon was allowed drift off his man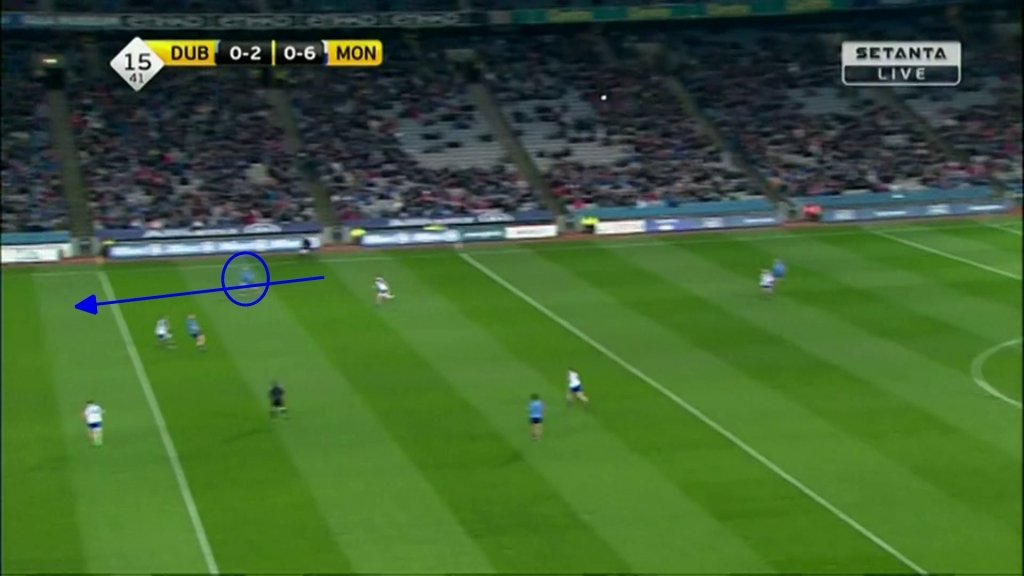 and if there was a better ball at the end, well this is what Dublin do, a sucker punch of goal.
Dublin's Shooting
All shots are not created equal. Monaghan out shot Dublin by 32 : 26, no mean feat in Croke Park. However Dublin's chances were from a much closer range. Using 30m as 'Close Range' we can examine very quickly the difference between 2 teams shots.
Monaghan took 23 shots from play but only 9 (39%) were from the Close Range
Dublin took 17 shots from play but 9 (53%) were from the Close Range.
This means that although Monaghan had more shots, questions must be asked as to whether the shot selection was right. Dublin were more selective and less willing to shot from outside the Close zone where the return is a lot less. For Monaghan to truly push Dublin they will need to improve their shot selection.
Dublin's Defensive Shape
Against Mayo Dublin pushed up a lot and were willing to leave the Mayo full-forward line a little more room. However we did see a shift on Saturday night. Conor McManus is one of the most dangerous forwards in the game and Dublin gave him ample respect with a more permanent sweeper (yes Dublin use a sweeper). In this example, following a Dublin turnover, Monaghan break and Ciaran Duffy is afforded much more space than any Mayo player was last week because Cian O'Sullivan isn't sure to push up or is more worried about McManus inside.
Cian O'Sullivan clearly had this job on his mind throughout the game. Just before half-time Monaghan win a line-ball on the Dublin 45. Cian O'Sullivan is clearly signalling at Paul Flynn to take his man.
Flynn pushes up as O'Sullivan races back to the sweeper role. Monaghan play the ball backwards and then look for McManus inside.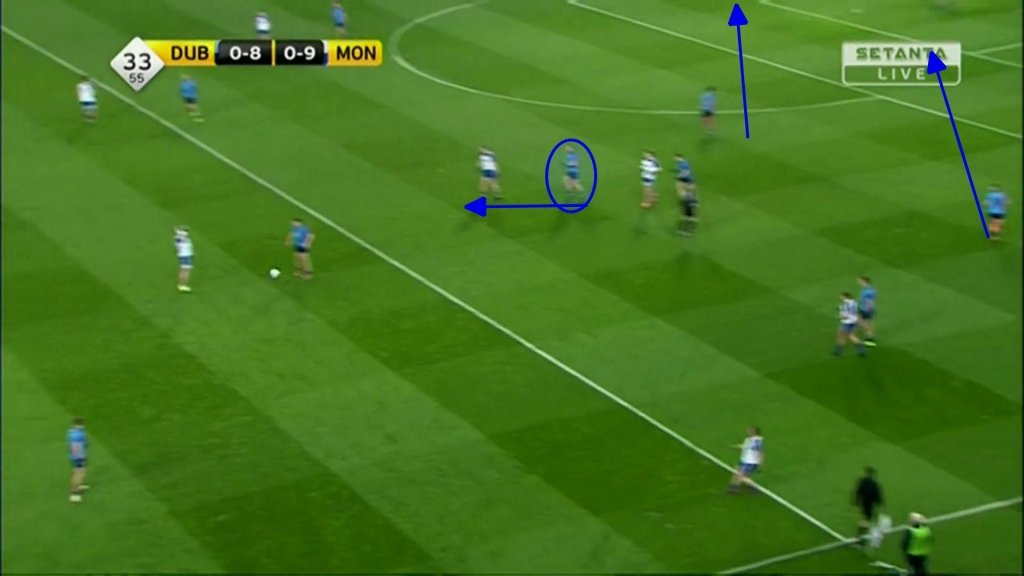 Except who has arrived!
O'Sullivan reads the intercept and Dublin win a free to escape the pressure.
I'm not sure if the lack of pressing by Dublin was deliberate or not. But in the last 2 games we have seen Dublin play 2 different styles. Against Mayo they pushed high up the field and were willing to leave themselves a little more exposed. Against Monaghan we see a more defensive approach with a clear sweeper in place. McManus is special and kicked some amazing scores. Dublin will be happy enough with the win but I think Monaghan, especially with the 2 goal chances can count themselves unlucky not to escape with a win here.