Dublin get a lot of praise for their attacking football, stemming often from their ability to start quick fast attacks from their own kickouts. However, Dublin's work-rate and skill in defending is overlooked and as a result undervalued.
Dublin defend differently to most other teams. They press high and with numbers, they commit as high up the pitch as necessary to win the ball back as close to the opposition goal as they can. That can leave vulnerabilities when you pass that first and even second line of defenders but when they get their pressing game working it's very difficult to stop.
Take this example after 30 seconds in the Mayo game. Dublin turn the ball over but instead of falling back and defending on the half-way or even close to their own goal, the Dublin players take position at the point they lost it. In the pic below you can see that at least 8 players are committed to pressing the kicker.
And it's not just that they are looking to press man-on-man, you can see the player(5) is pressing space, he wants to fill that large bit of space in the middle of the field, regardless of the fact there is no Mayo player in that space. From the resulting lineball Dublin win a scoreable free almost immediately.
Dublin win a very impressive 70+% of their own kickouts, but the more startling statistic is they win 55% of the oppositions kickouts on average. Dublin commit, to winning the opposition Kickout. It's not a case of trying to split defenders or anything of the sorts. Throughout the game they were willing to go man-on-man on Mayo's 21. This is something most other teams don't do as often or as well as Dublin.
The image below is the first kickout of the game. It's 5 v 6 in favour of Mayo

Compare this to the Dublin Kickout following a great Mayo goal chance in the 22nd minute. At the time Regan strikes the ball at goal there are 7 Mayo players inside the Dublin 21. A few seconds later the image below shows how easy it was for Dublin to win possession from the Kickout and move the ball up field.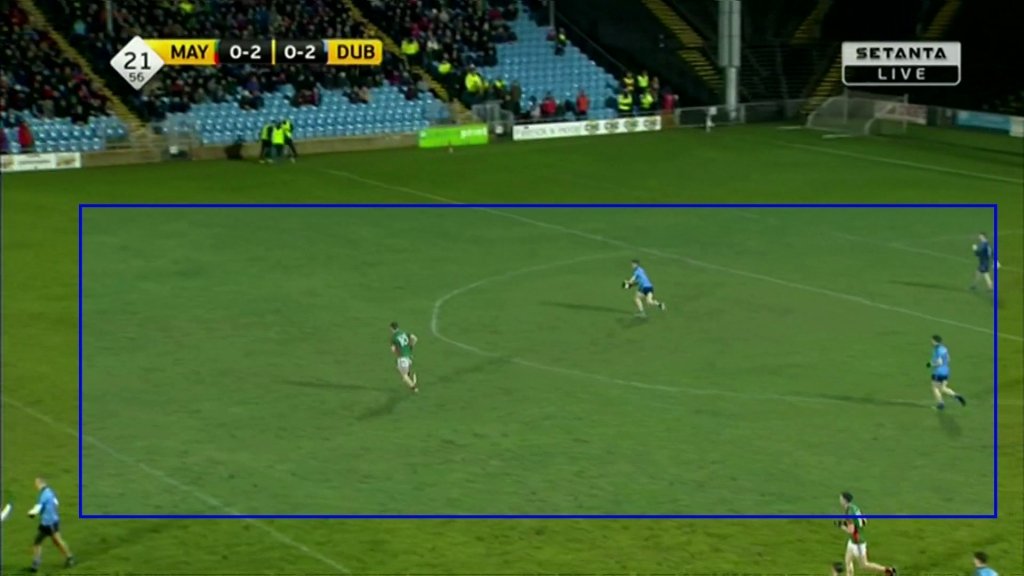 From the following 2 passes you can see the Mayo players get so easily taken out of the game. They are neither pushing up nor falling back and as a result they get passed out as if they are cones on a training pitch. Dublin are afforded so much space and get to the Mayo 45 without any pressure at all.
And this wasn't an isolated incident in just the 6th minute Dublin get out so easily and Denis Bastick reaches the half-way and kicks an easy ball into the Mayo 45 without ever facing pressure from Mayo.

Compare this to what Donal Vaughan was met with from the first kickout of the game.
Or after 9 minutes when Mayo when a free in their own 45 compare how far up the pitch Dublin are willing to commit 11 players.

Very different styles and tactics between the two teams. Dublin are happy to not just go man for man, because that's not actually what they do, but an overall team commitment to press high up the pitch where possible and win the ball back as quickly and as close to the oppositions goal as possible.
It's not about Man on Man.
As proof of that take a look at the following image.  Ciaran Kilkenny is tracking a Mayo player as Aidan O'Shea cuts across the pitch. Instead of following 'his man'. Kilkenny puts the breaks on, and although makes a very minimal attempt to tackle O'Shea he slows him down enough for his marker to cause a dispossession. When Aidan O'Shea drops the ball it's Ciaran Kilkenny who picks it up and launches another Dublin attack. I think in most other teams Kilkenny tracks that runner no matter where he goes, but not with Dublin.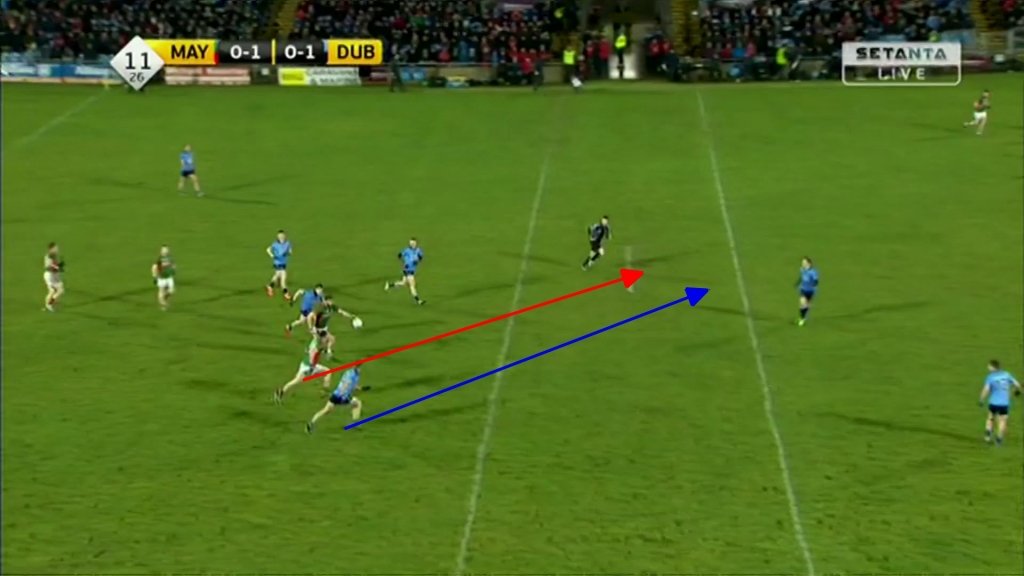 Again to contrast this with the Mayo style; as Dublin win possession back inside their own half look how far off the Mayo player's are. Not pressing but some have even turned their back and are simply just running back.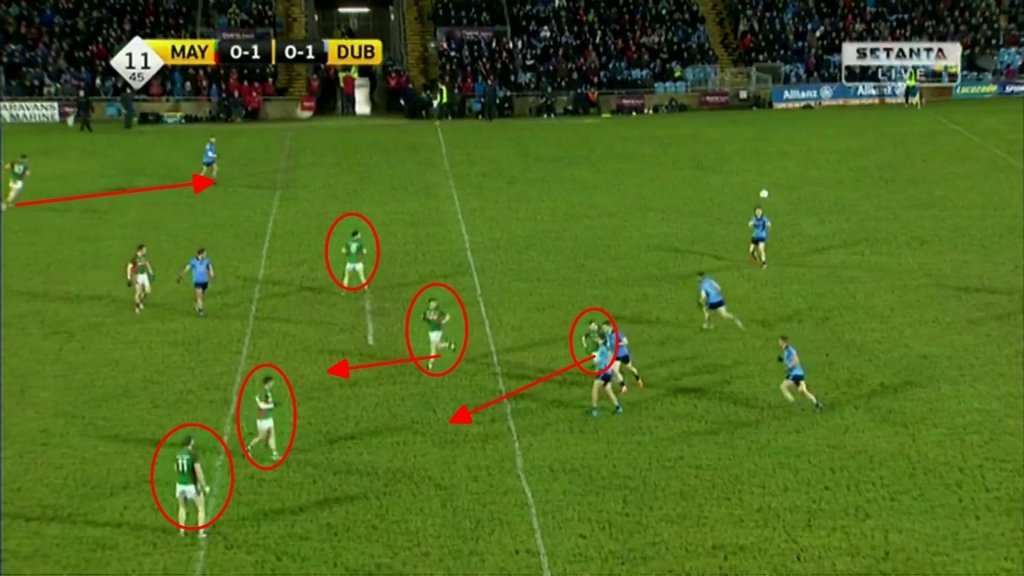 At one stage in the 1st half Mayo get a free just inside their 21. 30 seconds later after a series of passes they are themselves turnedover, having almost never been outside their 21!! To play Dublin you need to deal with this sort of pressure.
The high press game comes at a cost and at times it can be high risk. If you commit that many numbers to press the opposition, you need to make sure you get pressure on the man carrying the ball. As soon as that doesn't happen you leave yourself vulnerable to a long ball that can take out all but your back-line.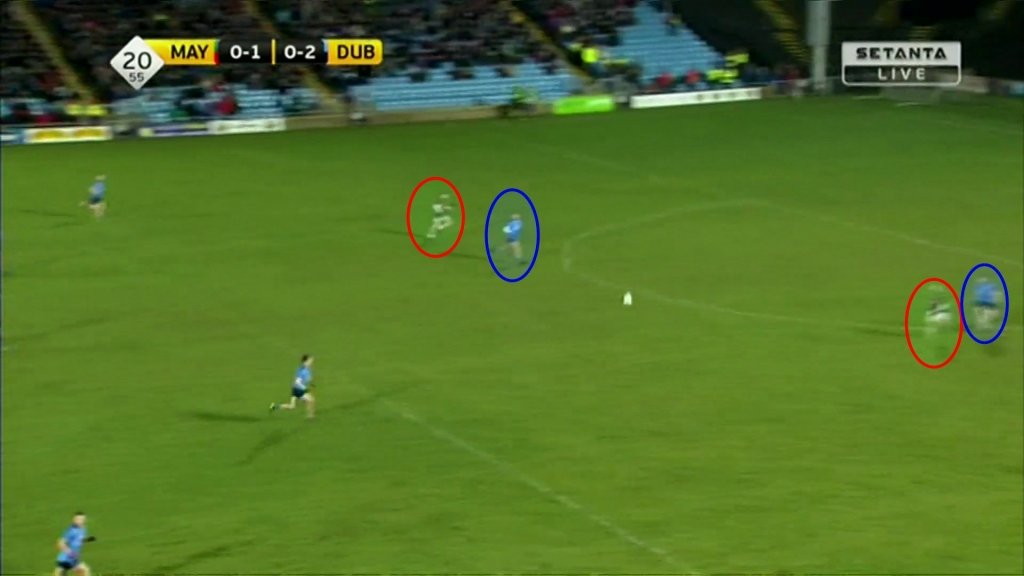 Dublin failed to get enough pressure on the ball carrier following a turnover and had 2 v 2 inside. There is cover arriving and Jack McCaffrey gets back to break up the play but on a dry day where the ball sticks first time – this is a vulnerability.
This high risk, high press game showed an earlier vulnerability. As you can see the next image is from the 2nd minute of the game. Dublin are pressing, it's not really about their man – more about getting pressure on the ball. But in doing that they have left 2 Mayo men free. If the ball carrier can get their head up a 20 yard pass would take 7 Dublin men out of the game.
Later in the half we see Dublin get turnedover on the ½ way. The pressure system means in 2 quick hand passes suddenly Mayo see a very different field in front of them.

Suddenly they are in behind, running full speed against a Dublin full back line. This happened much too infrequently for Mayo. Will other teams be able to exploit that high-press? Dublin looked excellent at it, but it will leave gaps behind. There players knew when to push up and when they needed to hold their position. This is not a skill I've seen in many other teams.
Monaghan will no doubt defend in numbers, they are unlikely to play a high-press game, but the big test will be how they cope with the Dublin press. Will they be able to beat the initial high-press and get the Dublin team turned?