Cork arrived with a blanket in Croke Park last Saturday evening and it seemed to work for about 35 minutes. But then Dublin caught them, passed them and gave them more headaches leaving than when they arrived. Coming into the game with the worst defensive record in the 4 divisions it's easy to see why Cork set up with virtually all men behind the ball.
There is no getting around this, this was a scrappy and poor game overall. With 56 turnovers (29 in the first half) and 52 fouls the game never really got going. It took 11 minutes for the first point from play and Cork scored 1-1 from shots that dropped short in the first half.
The 1st half had a staggering 21 by Dublin. For some context Dublin's average Turnover rate is 26 for an entire game. I think we can safely assume no team will get as many against Dublin again this term.
So did the game all hinge on the half-time team talk? The hairdryer treatment? I'm sure there is an element of that but there is a lot more at play that a couple of broken tea-cups in a dressing room.
 Cork's Set-up
As mentioned Cork came with the intention to get men behind the ball and park the bus. Over the last 3 weeks we have seen vastly different styles against Dublin. Mayo conducted a mix of press and drop off, Monaghan were much braver in pushing up on the kickouts and really trying to put pressure on Dublin while still effectively playing with 2 sweepers. Cork did the 3rd option. They defended in numbers. Early on you can see they have +3 defenders in place which forces Dublin to go lateral time and time again. In this example Ciaran Kilkenny has no option but to head back across the pitch.
We can see in an earlier play (below) how well Cork were set-up defensively. Costello receives the ball under the Hogan and his first thought is to look up and find someone inside. We can't see from the camera angle but nothing is on inside.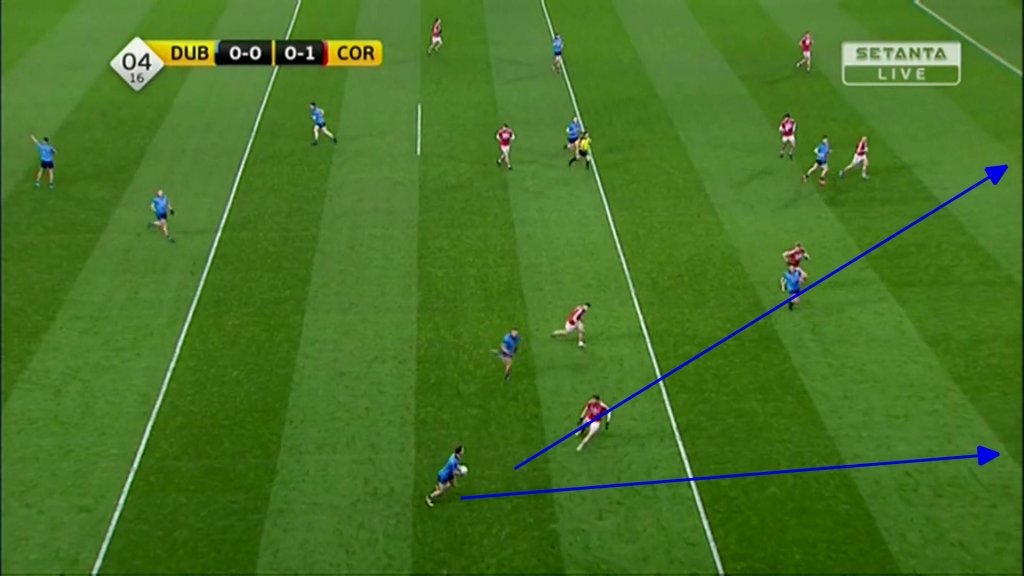 So he cuts inside, plays a 1-2 and looks to change the point of attack.
He does find a nice ball to Brogan, but Brogan receives the ball 45m + out and again Cork have +2 defenders against the 2 Dublin forwards and a sweeper arriving behind them.
Brogan is forced to try a fairly impossible shot with no other Dublin Forwards in sight. Of Dublin's 21 1st Half turnovers 17 were misplaced kick passes. Whether they weren't reading the sweepers or simply ran out of options is hard to tell.
Dublin Switching Play
Against a blanket defense Dublin constantly look to change the point of attack. They are great at keeping their width and even though they struggled in the first half they were always looking to switch the play. Cork switched off for a couple of minutes in the first half and Dublin were able to see the opening.
Cork win a sideline ball but have no options so end up kicking it away in the middle of the park.
Cooper picks it up and immediately keeps the ball coming towards the near touchline. A nice interchange with Cian O'Sullivan opens up the play, but the Cork players are slow to react to losing the ball. I think the 3 men highlighted on the far side could be quicker to react to the danger. All 3 effectively walk back towards position.
For the first time in the half there is no sweeper in place and Dublin can play the ball into Brogan and have men running off. If the 3 men highlighted above were quicker in getting back it would have (possibly) allowed everyone to shift around a bit more and for Brian O'Driscoll cover that space in front of Brogan and Andrews.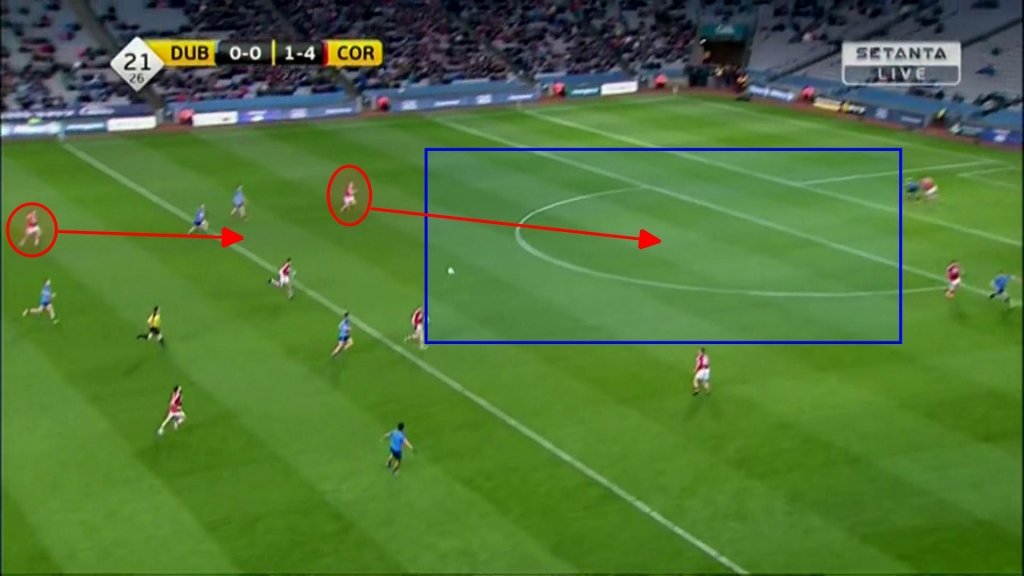 Connolly finishes the goal really well but I want to highlight the defending of Brian O'Driscoll. As he is running full-tilt towards Brogan he seems too preoccupied with marking the inside runner, Paul Flynn. He could have read the situation a bit better and saw that Cork had 4 men inside to take Flynn. There is no need for him to keep tracking that run.
He almost has to break his stride to get out of Brogan's way. The danger here is the man on the ball and he would have been better served stopping any release.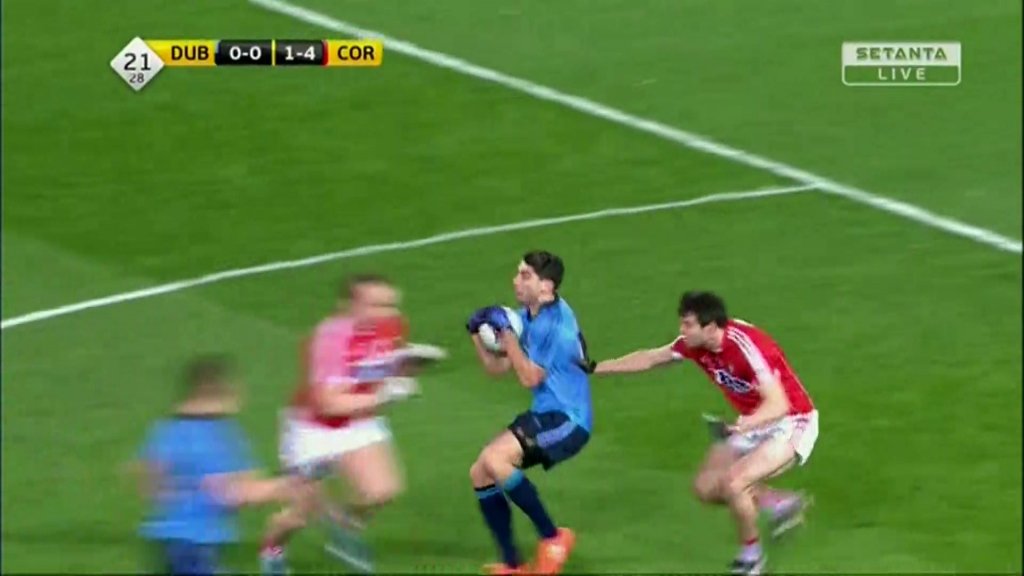 He makes a valiant effort to get back put those split second decisions are crucial against Dublin.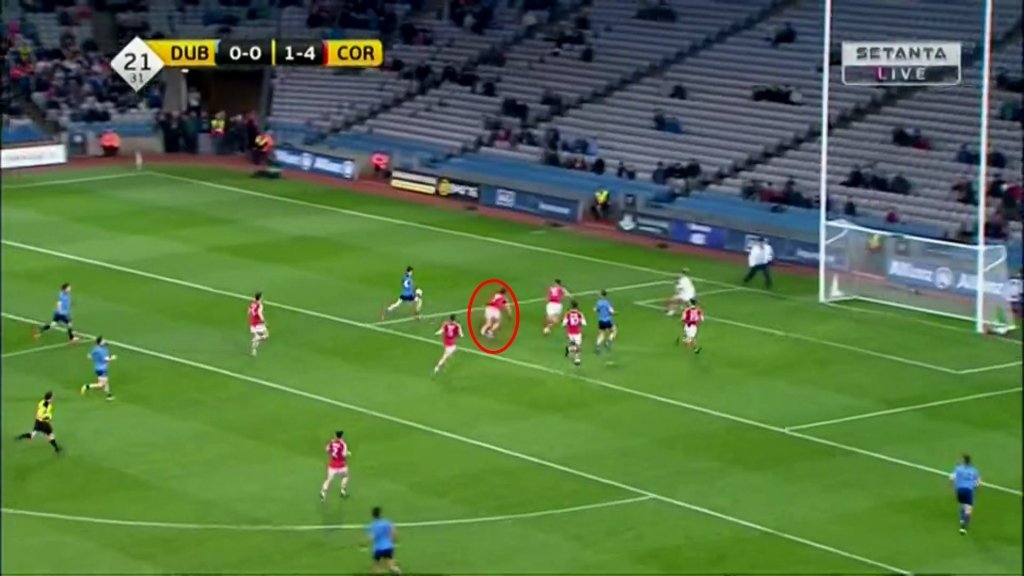 A Game to Two Halves
So what changed in the 2nd half? Other than the tea-cups being thrown, there were some positional switches with McCarthy going into Midfield and being 7 points down players feel they have more license to take risks. Phily McMahon barely ventured forward in the first half but he kept appearing off the shoulder and making runs into Cork's 45. Even in the last minute of the game as James McCarthy coolly slotted the ball into the net the player waiting in the square for a pass was McMahon.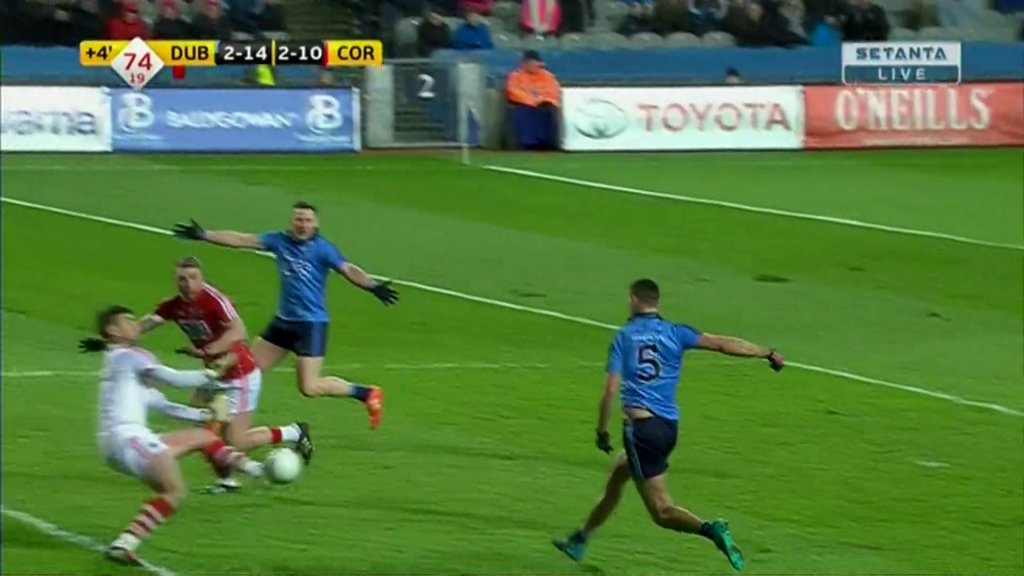 It's hard to see McMahon not being given a license to venture forward in games given his recent form and the Mayo game.
Cork's blanket was still in place for the majority of the 2nd half but some costly errors in front of Dublin's goal early in the 2nd half killed their momentum and the scoreable frees Cork conceded allowed Dublin edge ahead without much fuss.
It took Cork 9 Attempts to get their first score of the 2nd Half. The 3rd miss coming when Cork still had a 5 point advantage 5 minutes into the 2nd half.
What will probably disappoint Cork the most is the easy chances they coughed up from scoreable frees. Dublin kicked 10 points from 11 placed balls for a 90% return. In contrast they kicked 6 from 16 attempts from play (albeit 2 goals). But that is a 38% return from play. The fouling really kept Dublin in the game.
With 55 mins gone Cork still lead by a goal (2-7 to 1-7). For Dublin's remaining 7 points only one was from play. Cork coughed up 6 frees in those remaining 15 minutes. For the blanket to work the discipline is so important. In the end as much as Dublin upped the ante Cork let them off the hook by allowing them keep the scoreboard ticking over.